IN BUSINESS FOR
OVER 30 YEARS.
In 1988 Sanderson DeHaan Irrigation opened for business with a 1980 Ford F-150 and a trailer serving Kalamazoo and the surrounding areas. With hard work and superior customer service, Scott Sanderson and Greg DeHaan turned SDI into one of the leading underground sprinkler contractors in South West Michigan. The tradition of quality workmanship and dedication to customer service has continued with Jon DeHaan and Dick Fridley leading SDI since 1997. Now with a fleet of more than 30 sprinkler trucks, we service over 6,000 satisfied customers in Southwest Michigan.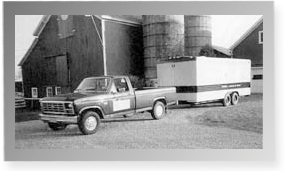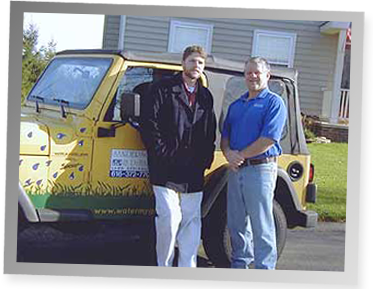 The other companies could not compare to your immediate response and getting back with us within 7 days with a full written presentation, that was very professional. The time frame for the installation and the financial arrangements were done as stated. Your installation personnel handled themselves in a professional manner and care was taken around the many plants and buildings. Within one month after installation, you could not tell where the lines were installed. Last year's winter shut down and this spring's turn-on went as scheduled. Your scheduling and service personnel were very polite and have helped me over this summer to answer my questions. I recommended your services to several people who have stopped by this summer and asked about my system. "The only GREEN LAWN" in the whole neighborhood.
We would like to inform you that we were very impressed with the friendly, courteous, and professional service Jeremy provided. He appeared to be very knowledgeable in his work and was very conscientious. He made the repairs in a timely fashion and did a nice job of returning the repaired area to its original condition. We are glad to continue as satisfied customers and would gladly recommend your business to others. Two very satisfied customers.
Kudos to you and your company in providing us with a good product and excellent service!! "We'd like to take this opportunity to thank you and the entire Sanderson & DeHaan organization for the courtesy, friendliness, promptness, and professionalism in the installation of our new irrigation system. Right from the beginning, we felt your organization had it all together from your proposal and follow-up to the scheduling of the plumber and final installation. At the initial meeting you covered all our questions and followed through with all our expectations.
Since our move to this area our landscaping experiences have been disappointing and frustrating in all areas except one. Our smartest choice thus far has been to have Sanderson & DeHaan install our sprinkling system. From the beginning every contact with your company has been impressive. Not only has everyone been knowledgeable of your product, but has also been courteous, efficient, prompt and very professional. I would wager that these qualities are the primary reason for your company's success in this region. We appreciate your kindness and your patience, your flexibility, and your help.