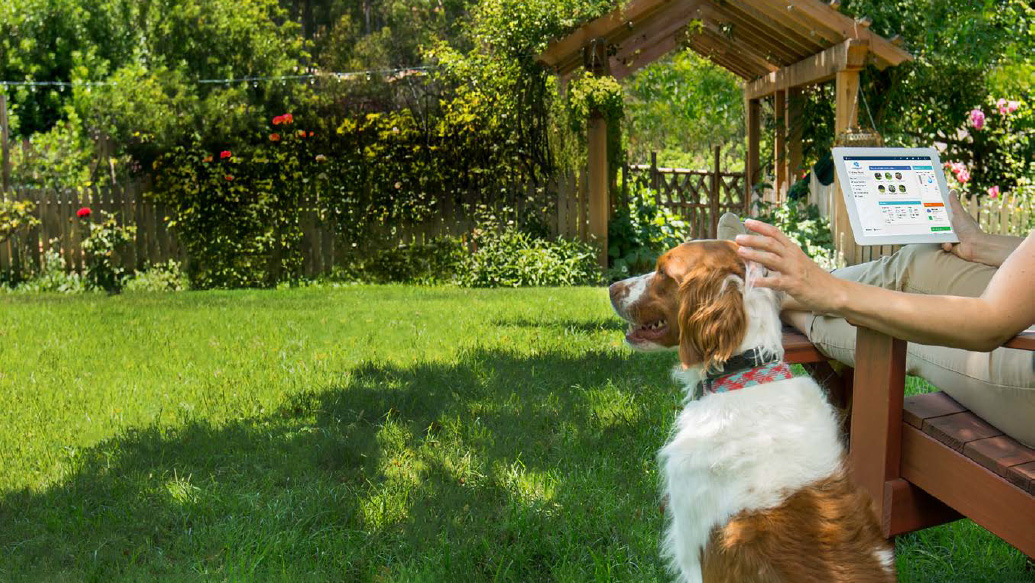 What is a Smart Irrigation System
 You may have a 'smartphone,' a 'smart' doorbell, or a 'smart' car. While the term 'smart' seems like a nod to intelligence, the word originated in the computer storage industry. 'Smart' is an acronym for Self-Monitoring, Analysis, and Reporting Technology (S.M.A.R.T.). Today smart technologies are expanding to include media devices like Alexa, appliances, and heating and cooling systems. Technology that's 'smart' is usually digital, often part of a network, and can operate autonomously to some extent. And smart systems are reconfigurable, making them adaptable to changing conditions.  
Smart irrigation systems are becoming more widely available to homeowners and businesses, with manufacturers focused on improving the efficiency of sprinkler technology. Here are answers to questions Sanderson & DeHaan teams often hear from people considering a smart sprinkler system. 
How do Smar
t Irrigation Systems Work?
Residential and commercial sprinkler systems include controllers or irrigation timers that schedule when and how long the watering cycle will occur. But a smart irrigation controller goes one step further. Smart controllers communicate with local weather stations to monitor temperature, rainfall, humidity, and wind. The weather conditions help smart systems optimize your sprinkler run times. With a smart controller, you'll keep your lawn and landscape healthy while minimizing over-watering.
Some brands, like Hunter's Hydrawise, are predictive. The controller will prevent an irrigation cycle in the morning if forecasts predict a probable chance of rain later in the day.
Smart irrigation systems may shorten watering times to maximize water absorption to reduce run-off on slopes and steep grades.  You can also set systems to deliver more water to the lawn and plants when the conditions are hot or arid.  The Hydrawise system can incorporate a flow meter for leak detection. And Hunter's Rain-Clik product acts as a quick shut-off if a localized weather event occurs that the weather stations didn't anticipate.
The Hydrawise smart controller and other brands on the market allow you full access to the controllers' functions and programming from your smartphone or device.  And with the Hunter Hydrawise, you can to join Sanderson DeHaan's contractor dashboard so we can assist you with remote programming and troubleshooting.
Why Choose a Smart Irrigation System?

 
Irrigation system efficiency depends on factors such as the design, installation, and your specific site's conditions. In Michigan, lawns need between 1 to 1.5 inches of water weekly through rain, irrigation, or a combination of the two. The goal is to water the top 6 to 8 inches of soil where turf and plant roots live. Water loss is part of the irrigation process through evaporation, wind, and water run-off. But a smart irrigation system can reduce water loss while maintaining the landscape's appearance.
A Smart Irrigation System Can Lower Energy and Water Usage Costs. If you're investing in a sprinkler system for your home or business property, you're likely aware of lawn irrigation's efficiency and effectiveness. Smart controllers are another step that helps keep landscapes healthy and beautiful with the added benefits of reducing water use and energy costs.   
Smart Sprinkler Systems are an Investment that Pays Out! An add-on weather-based smart sensor can lower water consumption by 20 to 25 percent (or more) annually when installed as part of a well-designed irrigation system. The pricing of smart irrigation systems does vary. But industry reports estimate people recoup the investment in a smart controller through lower water and energy bills within two to three years. Many brands, including Hunter, have the Environmental Protection Agency's (E.P.A.) WaterSense certification that offers people rebates on utility bills for using a smart sprinkler system. 
Are You Ready to Learn More about Smart Irrigation Systems?
Call the Sanderson & DeHaan Lawn Sprinkling team to discuss your irrigation system needs. We'll review your current system or help design an efficient, cost-effective irrigation solution for a lawn you'll love!   
We provide lawn sprinkling services throughout Southwest Michigan. You can reach us at (800) 489-4441.