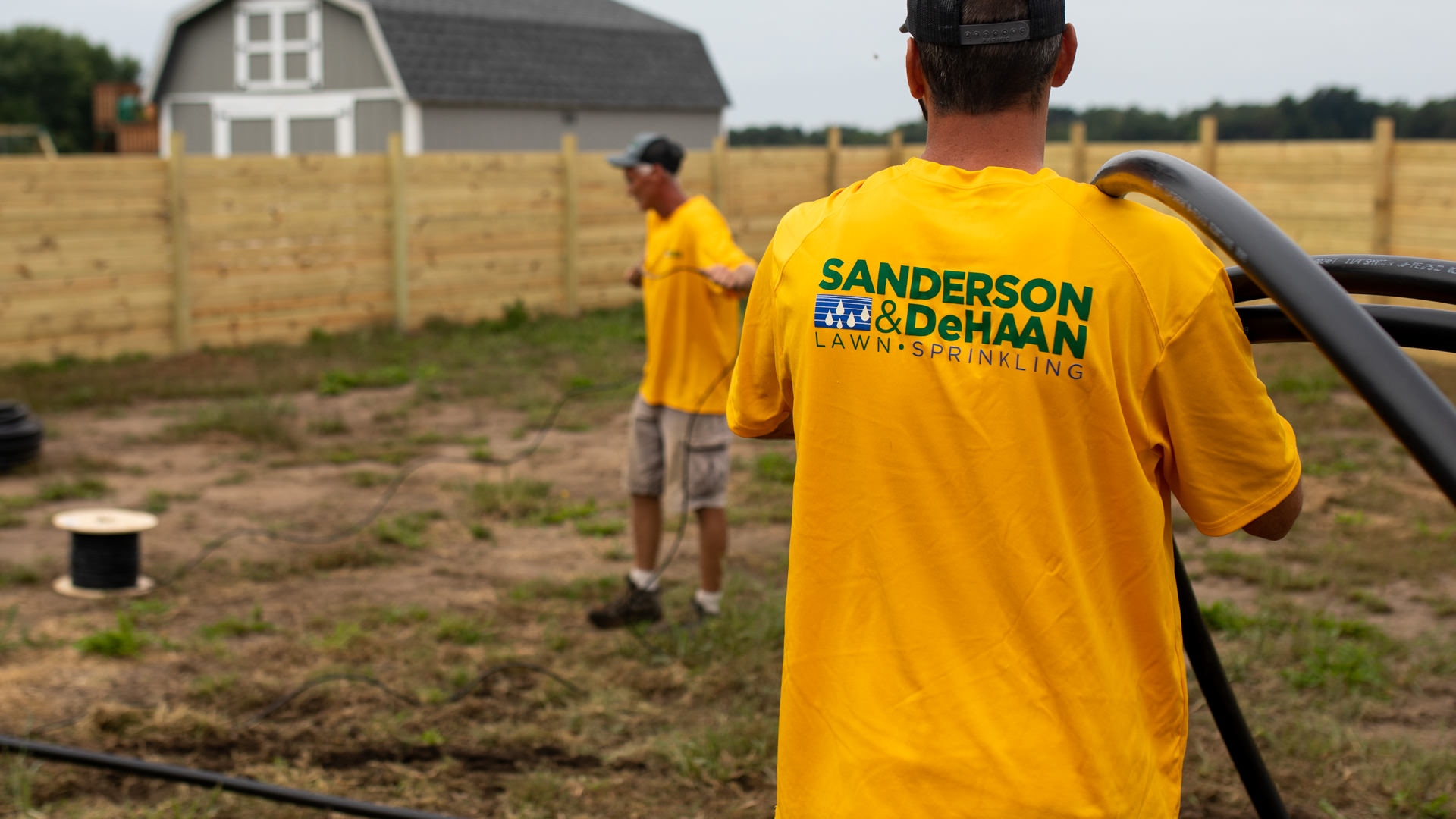 What to Expect with an Irrigation System Installation
If you're ready for life without dragging hoses around to hand-water the lawn or getting soaked while adjusting sprinklers multiple times, then it's time for a lawn sprinkler system. You may be wondering, however, what to expect with an irrigation system installation.   
Will the process involve bulldozers? Are you going to have to reseed your lawn? Should you move out for a week? The Sanderson & DeHaan team wants you to have complete and clear information about the sprinkler system installation process so you know what to expect.
Step 1: 

Site Visit

to Assess Irrigation System Design Needs
The Sanderson & DeHaan team will visit your home or business to begin designing the irrigation system. We'll map your landscape, assess the available water supply, create hydrozones, and recommend an optimal design for your property. You'll receive a free estimate for the design and installation costs.
Step

2

: 

Preparing

for Sprinkler System Installation
Although schedules for irrigation system installation will vary depending on the time of year, Sanderson & DeHaan strives to uphold set dates after receiving your approval to proceed.   
Prep activities include confirming the availability of parts and materials for your system. 
We'll also contact utility companies to mark service lines for any underground wires. 
For existing lawns, we'll ask that you mow a day or two before installation to minimize clean-up. 
Our team will answer any questions or address any concerns you have about the installation process. 
Step
3
: 
Day 1 of Lawn Sprinkler System Installation
Most residential installations of lawn sprinkler systems take 2 days or less, depending on the size of your property. When the Sanderson & DeHaan crew arrives at your property on Day 1, they'll begin excavating the area where water lines will run. Before installation, we'll recommend one of the following excavation methods:
Trenching
The more familiar approach, trenching requires digging 6 to 8-inch wide, 12-inch deep trenches in the lawn. The team removes the sod with the trenching process but will backfill and level the landscape after completing installation. If using trenching for installation, your lawn will grow back in 4 to 8 weeks with reseeding or new sod. Due to the invasiveness of this technique, the use of trenching is often limited to commercial projects with larger pipe requirements.
Plowing
Plowing is a newer technique for lawn irrigation system installation. The process uses a machine to pull the water lines through the ground without significantly disrupting the sod. You may need to reseed sections, but within two to three weeks, the lawn regrows and returns to a healthy appearance.
Step
4
: 
Remainder of Day 1 and Day 2 of Lawn Sprinkler System Installation
After the excavation, the Sanderson & DeHaan team will begin laying water pipes, connecting valves and sprinkler heads, and installing weather sensors. The team then connects, installs, and programs the irrigation controller. While completing the installation, we will turn off your water system for a short time (usually less than 2 hours).  
We run the lawn sprinkler system to ensure performance is top-notch. We recommend watering your lawn regularly and fertilizing it within 7 to 10 days after installation to restore the sod. 
Step

5

: 

Post-Installation Inspection of Your Lawn Sprinkler System
The experts from Sanderson & DeHaan will treat your sprinkling system like it's ours. We'll schedule an inspection about 10 days after the irrigation system installation to confirm we've met your expectations.
Recommended Maintenance

 
The freezing and thawing dynamics in Michigan can affect the performance of your lawn sprinkling system. Sanderson & DeHaan recommends an annual inspection to ensure your system helps maintain a beautiful, healthy landscape. Our assessments include backflow testing to protect the quality of your property's drinking water. 
And we offer an annual service plan to save you money on opening and closing your sprinkler system in the spring and fall and throughout the year for any system repairs. 
Are you ready to schedule your lawn sprinkler system installation? Call Sanderson & DeHaan at (800) 489-4441 and prepare to have a lawn you'll love!